Haier Ultra low temperature -80° C (ULT) freezers
European freezer technology put together by the company that owns Fisher and Paykel. Haier Medical has a deserved reputation world wide for value for money. Haier Medical continue to develop and improve their range of laboratory and medical refrigerators, deep freezers and ultra low temperature -80 (ULT) freezers for sample protection and cryo-preservation. For more information, click on downloads to view our range of brochures and catalogues. Or read our "What is a ULT freezer?.
Our most popular range by far. Haier upright Ultra low temperature (ULT) freezers have a deserved reputation for being quiet and reliable. The DW86L range of upright freezers is available in sizes from 388 litres to the giant 959 litre. Download our minus 80 popular product summary here. Watch a 90 second video presentation of our ULT key features here. We will have a Haier medical ULT freezer to suit your requirements.



Haier chest style ultra low temperature -80 (ULT) freezers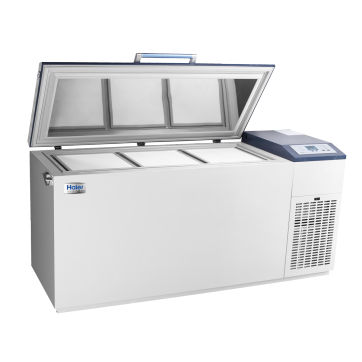 There are two models of ULT chest freezer to choose from.
100 litre DW86W100 and 420 litre. DW86W420




Freezer racks boxes and inserts

We recommend you talk to Lab Supply about their range of ULT freezer racks and boxes.
Service:
The NZ ministry of health requires that your cold chain compliant vaccine, drug or pharmaceutical refrigerator requires annual re-certification. CCAT Scientific Ltd can perform your annual fridge/freezer re-certification. Re-certification involves an inspection, performance test and calibration check. We will assist with or perform any repair which may also be required to maintain compliance.
Contact CCAT:
Free phone 0800 222 812 (0800 CCAT12)
email: info@ccat.co.nz
Australia free phone 1300 978 820 or email: adrian@brightsidescientific.com.au